Cleveland Medical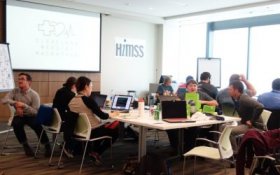 The Cleveland Medical Hackathon Announces 2016 Winners October 26, 2016 Cleveland, OH - The Cleveland Medical Hackathon presented by Nesco Resource is pleased to announce the winners of this year's competition and the winners of over $40, 000 in prizes. Now in its...
read more
Wrap It Up Food Truck Sponsored by HIMSS Out of all the awesome things happening on October 22 and 23, one of the awesomest is the Wrap It Up Food Truck making an appearance for dinner time. What better way to feed hungry MedHackers than with delicious wraps! Thanks...
read more
Participants in the Cleveland Medical Hackathon will be among the first to utilize the HIMSS Cybersecurity Hub. This new hands-on resource will debut during the Hackathon. The interactive, Cleveland-based experience will help individuals understand, prepare...
read more
Intel is offering Hackathon teams Arduino 101* boards for their projects! Teams just need to submit their concepts to the onsite Intel team during the hackathon and receive a board for use during the event. Intel will provide onsite support for the boards and...
read more
Linda Kenworthy, the Health and Life Sciences Industry Manager for Intel Americas, speaks about Intel's participation in this year's Cleveland Medical Hackathon as well as her perspectives on last year's event. This year, Intel is providing a keynote talk kicking...
read more
Dr. William Morris has been a staff member of Hospital Medicine at Cleveland Clinic since 2006. He was named Director of Clinical Informatics in 2007 and promoted to Associate Chief Information Officer for the Cleveland Clinic health system. Dr. Morris also serves as...
read more
Amy R. Sheon, Executive Director, Urban Health Initiative at the Case Western Reserve University School of Medicine, speaks about Community Health and Public Health at the Cleveland Medical Hackathon. Transforming Public Health is one of the tracks at this year's...
read more
Come see a demo of a realistic human avatar with interactive voice technology that can be programmed for a variety of applications including health coaching, medication reminders, care coordination, and the like. At the demo, you would have the opportunity to speak...
read more
Cleveland, OH (August 10, 2016) - The Cleveland Medical Hackathon (October 22 - 23, 2016) announced the themes of this year's event. The themes follow four tracks that guide hackathon participants to create technological solutions to solve challenges. The 2016...
read more
Share this article
Related Posts